Shri Sant Gajanan Maharaj Sansthan
Shegaon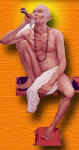 The town is a tehsil of district Buldana. It is connected by Central Railway on Bombay-Howrah mainline

The town is very famous for the Samadhi of Shri Gajanan Maharaj. It attracts a large number of pilgrims from all over India

Shri Sant Gajanan Maharaj made his divine appearance on 23-2-1878 and enlightened millions. He attained samadhi on Bhadrapad Shukla Panchai8-9-1910. The Samadhi Sthan (Temple) is visited by millions of devotees from far and near.
It attracts a large number of pilgrims from all over India.

Climate is conducive, Cool in winter (Nov-Feb) Hot during summer (March-June)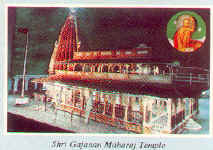 The devoted trustees carry out following Philanthropic activities for the benefit of pilgrims and down trodden.

Mahaprasad
Medical facility
Medical camps
Warkari Shikshan Sanstha
School for mentally retarded
Wari to Pandharpur,
Alandi and Trambakeshwar
Gajanan Watika
Providing Musical Instruments to Bhajan Dindi
Library of Religious books
Publication of religious books
Out Patient medical aids
Mobile Hospital 16. Adivasi Tribal Dev. Project
Engg.College
English Medium School
Proposed 300 bed Hospital
Rehabilitation center for physically handicapped
Provision for artificial limbs 22. Eye camps, etc.


How to reach here.?

You may alight at Bhusawal and change if coming from Delhi, Gwalior, Lucknow, Allahabad, Bhopal, Bangalore and Goa.

Those coming from Madras, or Vijaywada should change at Wardha.

Those coming from Secunderabad, Jiapur, Indore should change at Akola.

All Express & Mail trains except Gitanjali & Navjivan Exp. Stop at Shegaon (C.Rly.)

ROAD
One can approach by Road/Bus from Khamgaon a distance of 15 Kms connected with National Nigh Way No.6.
One can reach all major cities of Maharashtra and other States i.e. Indore, Ujjain and Baroda by Bus from Shegaon.

Please refer to latest time table for timings and reservatrions.

From Shegaon.
Chikhaldara-Hill Station is 150 Km.
Lonar Lake is 125 Km,
Ajanta 120 Km.